The Akrapovic Evolution slip on version that comes with the Factory Edition is beautiful work of art. If you're expecting a ton of added RPM response (excitement) from this slip on system compared to a full muffler system, you will be disappointed. The Akrapovic slip on isn't an exciting/snappy system that will blow your mind when you're burping your bike out of the pits onto the track. Instead, you simply will be getting a roll on power that is smooth and linear which can be easy to ride on beat up type tracks.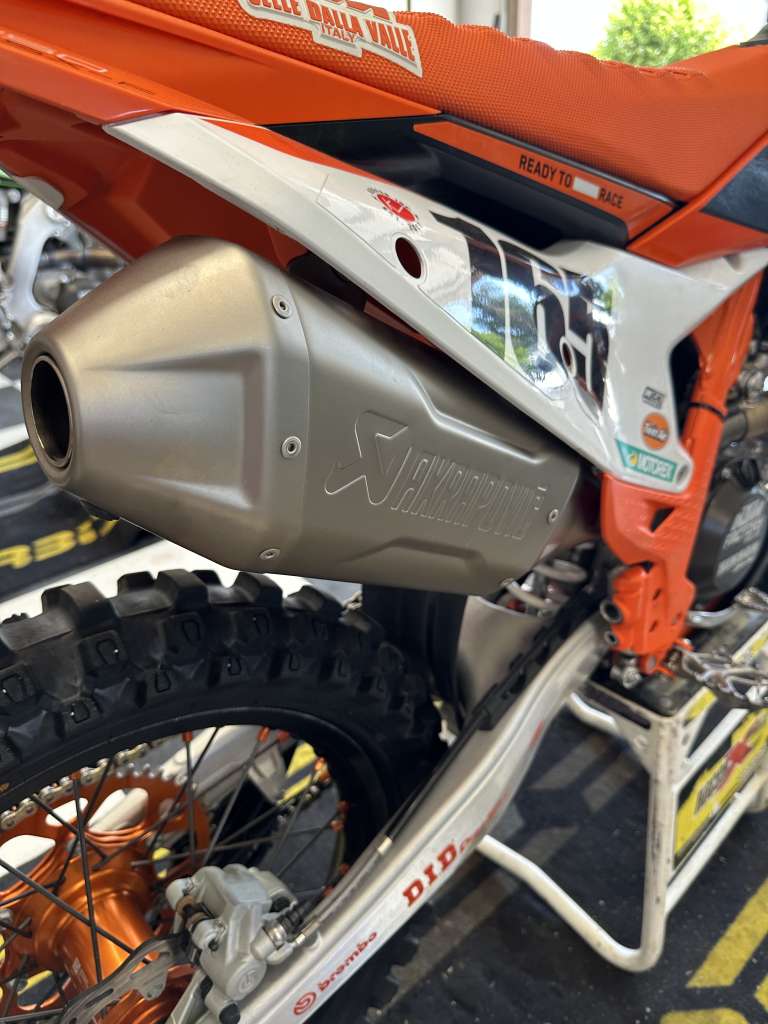 Mid range pulling power is increased over the stock KTM muffler and the muffler pitch is so quiet you never really feel like you're "on the gas". The mid range pull is much more linear and longer than the standard system and being able to shift a little earlier with the slip on makes it easier to ride in softer conditions. I do have a hard time with the KTM 450 SX-F Factory Edition at softer tracks not recovering, so letting the KTM 450 SX-F with the Akrapovic system rev out longer will reward you more than short shifting does. With a full system Akrapovic Evolution at the same track I was able to shift into third and not have to worry about covering the clutch as much, but the slip on needs to be revved a little longer before each shift. Some mufflers are built for a specific style of riding and I can tell the Akrapovic engineers were building this for a smoother roll on with a longer pull in each gear.
Top end and over-rev is where this Akrapovic slip on Evolution system shines. Adding top end and over-rev to the already very capable KTM 450SX-F only makes this machine more fun to ride. Again, I can't stress on how deceiving this system is because of it's quiet nature. I really had to focus in and feel how quick I was going from point A to point B on the track because the pitch of the muffler never sounds "racey". However even with its quiet note, the Akrapovic slip on system lets the KTM pull so much farther (top-end/over-rev) that it almost feels like a swapped to an aftermarket ignition. The connection to the rear wheel with the full system is unmatched and even though it may seem like it's not very responsive, the KTM with the Akrapovic slip on allows the rider to get on the gas sooner through corners.
If you're reading this and wondering why you can't simply purchase an Akrapovic headpipe for your Akrapovic slip on, the answer is they will not mate up. The Akrapovic slip on has a smaller diameter OD, (where it meets the stock headpipe), so purchasing just the headpipe will not work.