The Kawasaki KX250 has undergone some significant engine changes for 2023 and that sparked FMF to make an update to their 4.1 muffler system. The 2023 Kawasaki KX250 engine character has more low end grunt as well as pulling power than last year's model but it still isn't quite as good as the Yamaha in comparison. The mid range pick up is impressive with a top end that is longer than its blue competitor, but overall I think Kawasaki did a good job with its engine package for '23.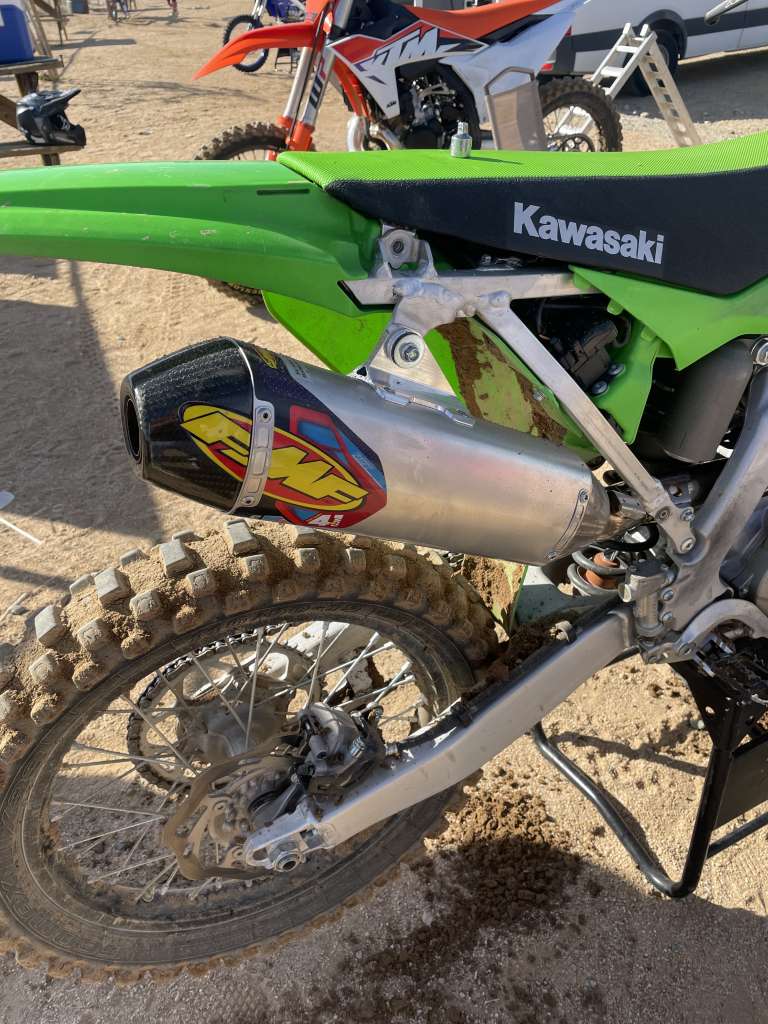 The FMF 4.1 stainless system that I tested helped with low end/pulling power yet didn't exactly give me more low end RPM response. The stock system has great crack off idle and gives the the rider a fun feel/perception but still could use some more pulling power out of the corner when comparing it a Yamaha/KTM. With the 4.1 system installed the initial crack was mellowed but the pulling power out of corners in second and third gear was noticeably better. I usually run a 13/51 gearing ratio on the KX250 and with the 4.1 installed I stuck with that gearing ratio, but know have more recovery as well as rear wheel traction rolling out of corners. Mid range is also lengthened over stock and the mid rpm response is better with the 4.1 system installed. Top end is as good as stock as well as an over-rev that feels similar to the stock system. Compared to a Pro Circuit system, I say you're getting a little more front side power (low-mid) with the FMF system and more top end/over-rev with the PC.

With the stainless 4.1 system you will not be losing a ton of weight (just over one pound) over the stock system but you can guarantee it sounds a hell of a lot better than that atrocious stock muffler sound that the Kawasaki KX250 graces us with. The 4.1 system bolts on easy has a deeper sound to it and can be ran anywhere between 10-12 hours before it needs repacked. I was impressed by this system and for $949.99 I think it's a reasonable upgrade over stock. Just note that although the stainless system may not look as cool as the titanium blue anodized 4.1 can, the stainless system is more durable in the slip joints than the titanium. You can check out fmfracing.com for more info or if you plan on ordering one, you can do so over on RMATVMC.com by using our banner on this site. 
Note: We left insert in with this model as it created a better throttle feel down low and gave each tester more rear wheel traction than without insert.
Any questions about this test, please feel free to email me at kris@keeferinctesting.com.