Logistically it is tough to get our test machines over to the west coast when most of the manufacturers have their media team here on the west coast. I have worked with Drey Dircks over the years at another manufacturer and have learned to respect his honest feedback he gives. Drey has 30 years experience of running an R&D team as well as many other racing accomplishments. He has recently retired from his "day" job, bought a KTM 300 SX and has provided us some good information right here. This one is for all you east coast riders, take some notes. -KK
Drey's credentials:
1992-2006 / 2016-2022 lead test rider for a Japanese MC manufacturer
1985 1st 125 pro CMC Trans-Cal series class champion
1985 1st 125 pro CMC Tri State series class champion
1985 8th overall 125 pro AMA West Coast Series (2 top 5's)
1995 1st Vet A AMA Hare & Hound Series class champion 
1995 Member of Honda Factory Off-Road Baja Racing Team 
2009 1st 45A Glen Helen World Vet Championship
2009 3rd 40A Glen Helen World Vet Championship
2014 2nd 50A Glen Helen World Vet Championship
2015 1st 45A/50A RacerX Vet Series class championship
2017 2nd 45A/50A RacerX Vet Series class championship
2019 2nd 50A Mammoth Mountain Motocross
Rider: Drey Dircks
Skill: Vet Pro
Height: 5'8"
Weight: 160lbs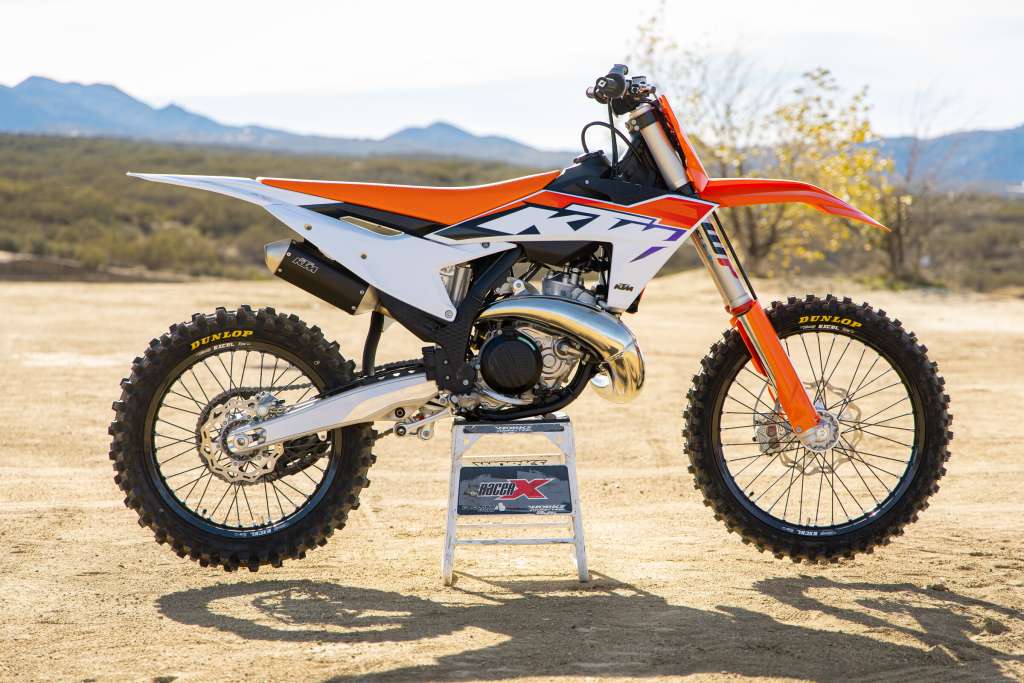 Today's 4-strokes are nothing short of amazing! They have more power than most riders can utilize. One limitation that still exists is engine inertia/braking so when I saw the new KTM 300SX with EFI & ES press release – I got excited. On paper it looked like a great hybrid option, 4-stroke torque character/features (EFI/ES) with 2-stroke light weight feel.
Purchasing a KTM was a major decision for someone like me who has ridden one Japanese brand for nearly 30yrs. After some thought, I made the call to a local KTM dealer that day and put a deposit down. Approximately 6 months later it arrived! When I got it home, I checked it over which led to finding a couple things needing attention. First item noticed was the shifter needed to raise 1 spine, a couple loose bolts needed to be tightened and set ride height to 103mm (1 turn out on spring P/L). Looked over the manual which recommended 93 octane pump gas, MOTOREX 60.1 and was ready to the track and rip some laps on my new toy.
I now have 6.6hrs on it riding on 2 tracks near the East Coast, NC.
JWTF in Maysville NC, a faster old-school sandy track with medium to large tabletops, bowl turns with high speed straight-aways.
Countyline MX in Bolton NC, is more of a loamy/sandy outdoor SX track with doubles, triples, tabletops requiring more flow and rhythm, no high real speed sections.
Both tracks have ruts on the insides and sandy berms on the outside. Bumps are smaller to mid-size, much different than CA tracks that are more hard-packed with many square-edge choppy bumps ranging in size.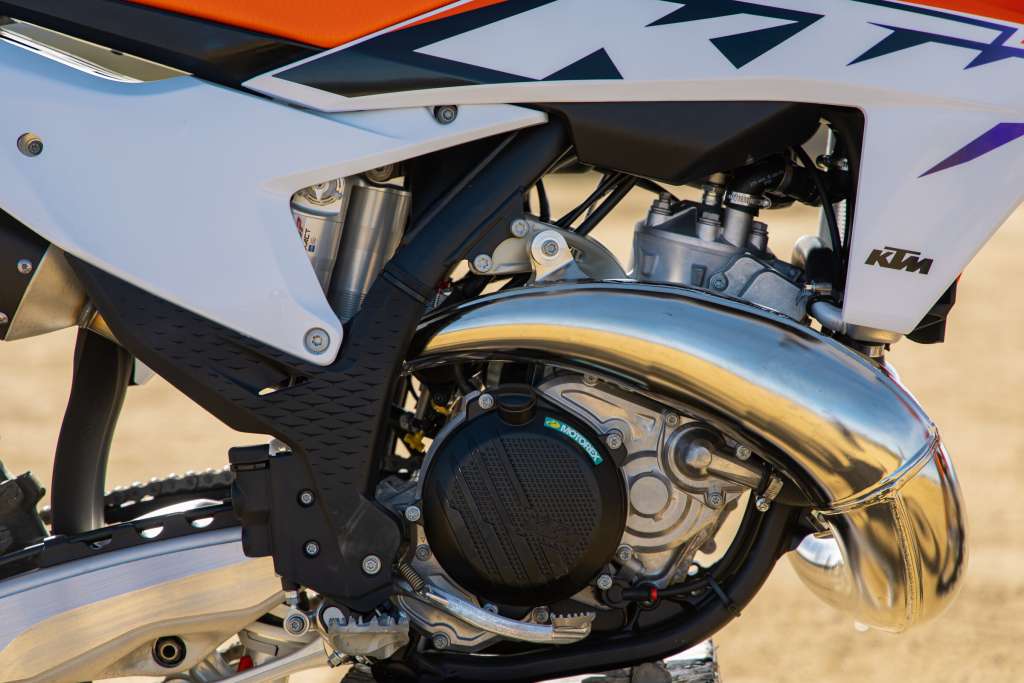 So, what did I think of the new KTM 300SX? Right away I felt comfortable. Power was strong and torque character had similarities of a 4-stroke. The powerband enabled you to pull taller gears but still requires more shifting than a 4-stroke. I did notice that 2nd gear felt a little low in some corners and 3rd gear a little tall in other corners, but overall power and response was impressive! There was some detonation when rolling on the throttle 1/8 – 1/4 opening exiting corners. (Lean character: Note tracks are basically at sea level) Shifting was crisp but a little notchy on the gas but most likely will improve after break-in. The hydraulic clutch engagement is smooth with easy pull, but I still prefer a cable clutch engagement feel. I am sure with more time on the bike I will learn to appreciate the hydraulic clutch.
White map vs Green map, White map is smooth/predictable and easy to manage, less mid to top range hit/pull. A good place to start if having not ridden a 2ST in a while, it lets you ease into learning how to manage 2ST power character, especially jumping. Green map is noticeably more aggressive mid to top. Power is very strong with snappy response and good over-rev. One thing to note is that the bike does not dig into the sand when accelerating like a 4ST which I was hoping for, more wheel spin and much less inertia when braking which kept the bike calmer.
Suspension character was reasonably good, better than expected. I had some concerns with the air fork, not been a fan of the earlier generation air forks on Japanese bands. Previously air forks lacked initial plushness with vague front wheel traction. WB fork initial plushness was close to a spring fork with good control, but had a slight overall firm feel. Rear suspension was initially plush but overall little firm mid to end for my weight/size.
Handling character calm, predictable and did nothing out of the ordinary. High speed tracking, jumping was good. Did not take much time at all to become comfortable on the bike. No concerns with high-speed turning, easy to stand thorough rolling sand corners. Bike stays flats with almost no pitching. Tighter rutted corners lean-in character required little effort to initiate the lean. Also noticed on flat turns there was a slight push mid to exit of the corner, like the front wheel wants to step out. Based on my experience it may be related to a chassis stiffness. Aftermarket companies will offer engine hanger options that could improve that character. My feeling is more flex may improve. Overall, the bike is fun and easy to ride.
Brakes are very strong, stronger than my previous Japanese bike. Pad material durability seemed to be questionable, needed to replace RR pads after only 5hrs. Sand does affect pad wear, but the wear was quicker than expectation. Replace with EBC pads and they seem to be more durable.
Ergo's are not terrible but an area I slightly struggled with. Everything feels a little different from Japanese brands which is not a bad thing, just different. Bars feel wider, lever reach is large for my hand size (M) and pedals are short for my boot size (10 ½ ). I found myself struggling to shift when aggressively exiting corners and my right foot searching for the brake pedal. If have boot size larger than 9, I recommend contacting an aftermarket company for +10mm longer shifter and brake pedal. Bar to seat to peg is open and comfortable, but seat height is little taller than my previous bike. Profile is narrow/smooth and no problems catching boots/knee braces.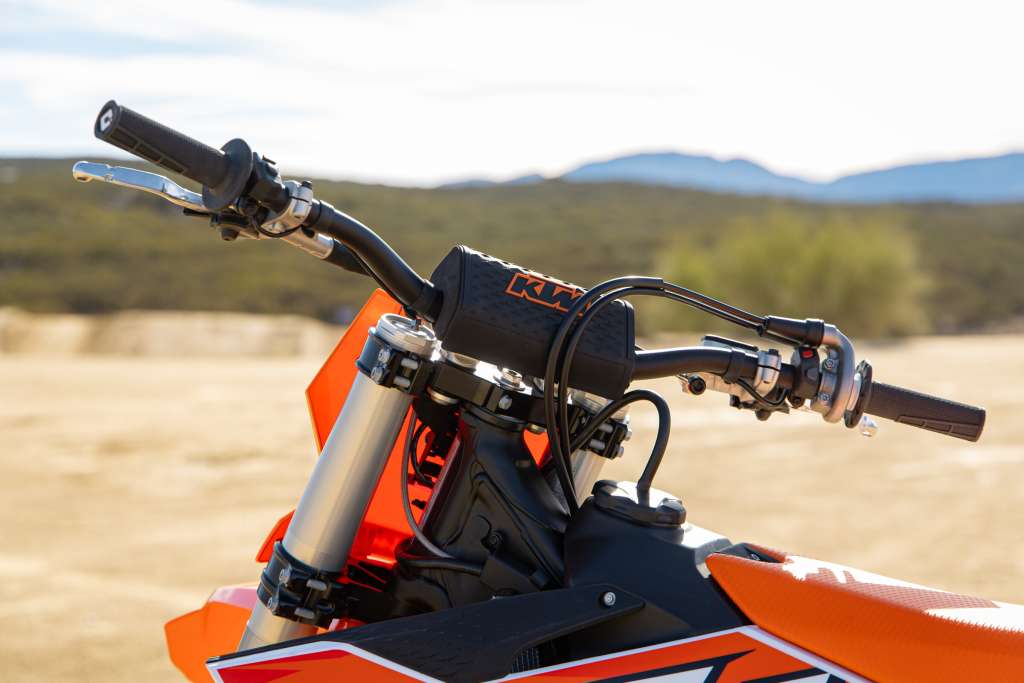 Fit and finish is above my expectation. Everything fits nicely with quality feel. No tool air filter is awesome! My only question is long-term durability of the self-tapping screws in the plastic parts.
I spent time throughout the past weeks to improve the following with my recommendations:
Rear sprocket (49T to 50T). This enables to use 3rd in many corners resulting in less shifting. Wider powerband feeling.
Detonation when rolling on the throttle 1/8 – 1/4 opening exiting corners (Unlike what Keefer felt, rich feeling, on the west coast).
Hotter plug (BR8ES  BR7ES) Since there is no option to program EFI setting I resorted to the internet to see if there was a plug option that may improve.
I found the following on NGK website: When the heat rating is too low: The spark plug temperature rises too high and induces abnormal combustion (pre-ignition): this leads to melting of the spark plug electrodes as well as piston seizure and erosion.
Detonation was improved.
Forks:
152psi to150ps
Rebound (18 clicks to 19 clicks)
Compression (12 clicks to 13 clicks)
Shock:
Low speed comp (15 clicks to 13 clicks).
High speed comp (1 ½ turns to 1 ¾ turns).
Rebound (15 clicks to 16 clicks).
Suspension action was improved, more smooth plush stroke character.
Overall, I am very happy with the KTM 300SX quality, power, suspension and handling. The light weight, lack of  inertia and engine braking of a 2ST and power/torque similar to a 4ST is everything one could hope for.  If you are Vet rider or someone who is a weekend warrior like me, this bike is a great choice for you. It is competitive to 450 4ST with all the fun of riding a 2ST. There will be a smile on your face while you are out ripping laps!