Even though my kid has more than one 2023 KX250 laying around the house the one we use the most is our (Keefer Inc.) designated test machine. This KX250 gets the most usage and has seen the most hours. We are currently at 56.1 hours and have almost literally done nothing to it. I couldn't really say that about our 2022 KX250, but more on that later. My son Aden, is the perfect durability test rider for me because he is an aggressive "B" rider that is very active on the bike as well as revs the crap out of it when he probably shouldn't. If there was a type of kid that would be good for durability testing, it would be a hyper active "B" class teenager. Aden and I have ridden our 2023 KX250 in deep/soft sand tracks to the hills of Glen Helen and everything in between. We change our engine oil every 2-3 engine hours and do an oil filter every other oil change. This is a little excessive but it ensures that we are keeping fresh oil/filters in this bike just in case something goes wrong, we can't blame it on the oil. We have been using Blud Lubricants 10/40 Scorpion Blud (Full Synthetic), but as you know, oil is like a religion so go with what you feel is best for you. I can tell you we have had good luck with Blud oil but there are others out there that are really good as well.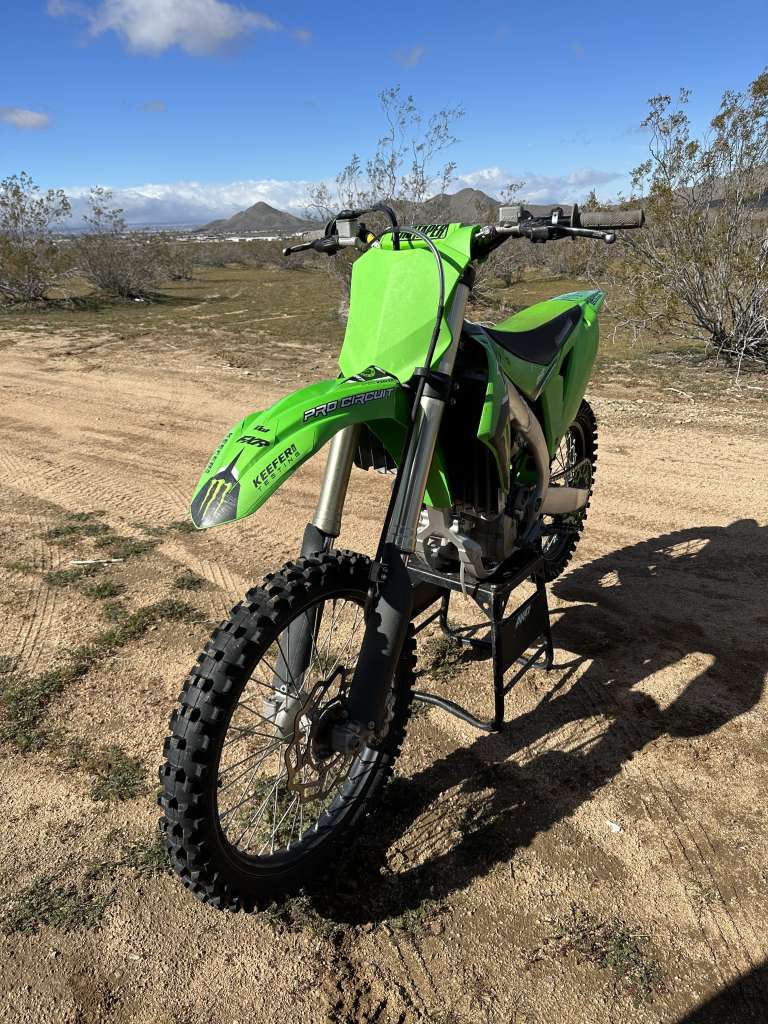 Now back to the comment where we mentioned that this 2023 KX250 has been better than the 2022. With our 2022 KX250 we went through broken clutch fibers, main bearing failure, stripped bolts/soft threads, seized steering head bearings, broken subframe tabs so to say it gave me a little headache would be accurate. Now, I will say I did give my 16 year old son some rope on his own bike maintenance so that could be something to do with some of the problems, but nonetheless they arose within our 75 hours we had this 22′ KX250. I couldn't put the blame on all the failures on Aden so some of this was just a 2022 Kawasaki KX250 problem. When we heard about the changes made to the 2023 KX250 we were excited to see how those translated into durability. Well, I am happy to report the 2023 KX250 has been a much easier Kawasaki to manage without too much troubles. In fact, it has been down right surprising! Southern California has had a great winter and that has translated into tons of hard motos from the house, which means lots of deep sand and rough conditions for any motorcycle. The 2023 KX250 has come through with minimal headaches and has kept dad (me) happy. 
Let's give you a quick cliff notes/rundown on what the 2023 KX250 is like to ride as a whole. The new 23' engine character has more pulling power and increased mid range that the 22 didn't have. It also can rev out a little farther and pull my fat ass around better in sand than the 22' did as well. This engine is like a cross between a Honda (top end pull) and a KTM (low end pulling power, but with more throttle response). It doesn't have the sheer torque feel of the Yamaha YZ250F but it is competitive down low and is better on top end than the blue bike. The chassis is more forgiving than the Honda CRF250R in small bump compliance and turns better than the YZ250F. It is a nice blend of straight line stability and cornering ability. It will not out corner a Honda CRF250R but it has more stability than the red dragon. The KYB suspension is a little on the stiff side, especially the fork setting. If you're a bigger rider (north of 165 pounds) you will appreciate the hold up of the KYB fork, but if you're lighter than 165 pounds you might want to opt for a lighter spring rate or lighter low speed valving internally. The shock seems to have comfort and allows the rear of the bike to track well (at 103-104mm of sag), but the fork needs to match the shock in the comfort department. There are some baseline settings on my site if you need reference to get you in the ballpark, but a re-valve might be in your future if you're lighter rider. The ergonomics are superb and Honda-like and I like that Kawasaki gives you adjustments to grow with the motorcycle. 
Ok, now that we got some through some of the basics, what have WE done to OUR green machine here. I am proud to say that we have done very minimal mods/work to the 2023 KX250. Our 56 hour machine looks like it has 56 hours on it, but it is still running like a champ. My son Aden commented the other day that he still feels like the Kawasaki is still running well and has good overall power feel. No loud noises or knocks have been reported and the only mods we have done to our test steed here is a Pro Circuit Ti-6 full muffler system to get rid of that atrocious looking/sounding stock muffle (plus the PC muffler helps/increased with mid range pulling power). We have installed Pro Taper EVO SX Race bars as well as some Renthal half waffle soft grips (great mix/match combo). Past that we have been running ETS MX18 race fuel in almost all of the 56 hours (would say around 40 of those hours have been ETS fuel) and have kept a 13/51 gearing ratio to allow Aden to get into third gear sooner on some of these deeper sand tracks (13/50 is stock). Aden prefers the ARC levers over the stock skinny blades so if you're not into the stock levers, look at ARC for a wider lever shape and better actuation on starts (wider window). 

So what has taken a crap on us? Again, not much, but the subframe tab is still a problem on the KX250s as our rear muffler subframe tab did break on us at the weld. We had to re-weld it to reinforce the tab and that proves to be the only thing that we can do. Dear Kawasaki, please make your weld beefier for 2024 and help us, thank you, Sincerely, Kris Keefer. We have not broken a single clutch plate in our 2023 and have only gone through two clutch packs during our 56 hours of use! WOW! This is impressive! We have had a couple soft thread moments on our lower fork leg where the fork guards bolt into so be aware of over tightening as well as the middle shroud bolt pull through the shroud (do to squeezing hard with the legs). Installing some Works Connection radiator braces ensures that this doesn't happen. We have also gone through three seat foams and covers and three sets of chain guides/sliders. Yes, these Kawasakis still go through slide n glides more than other machines. Going to a TM DesignWorks chain guide/sliders are better but they are also louder than stock so we ended up just using OEM and replacing them more. This is your call but having a loud slide n glide is annoying to me so we decided to bite the bullet and pay for more guides/sliders than we should. The plastic on the KX250 looks used quick (after 15 hours or so) so we have put three sets of Polisport plastic on during the life of the KX250. The Polisport plastic keeps its shine a little longer but also isn't quite as flimsy as some of the other aftermarket brands out there. 
I would recommend getting some sort of frame guard as the bottom of the frame rails can get damaged by rocks inside of ruts of casing a hard pack jump on some occasions. We have dented in a couple of our KX250 bottom frame rails because of rocks inside of ruts at Glen Helen. Look into Works Connection for some type of frame protection. Other small things to mention is brake pads will wear down around 10-15 hours, the KX250 will suck coolant on heavier/sandier tracks so be sure to check your fluid after every moto. The tabs on the right side radiator (where the cap twists onto) will bend inward and not allow your radiator cap to tighten up correctly so get a flat blade to bend them back out when this happens. The stock bar mounts are soft, so going to a Ride Engineering bar mount is better in case of a crash (or a small tip over in this case). Oh and if you're changing out grips, good luck! Just get a new throttle tube as the grip is vulcanized to the stock throttle tube. Look at a Pro Circuit throttle tube or ZRT.
We are getting ready to put in a new top end/main bearing/crank just because we feel like it is time for safety reasons but to get this much time out of a KX250 with a "B" class kid that is not easy on bikes is pretty damn good if you ask me. Sure, would we love to get 100 hours on the bike, but on a 250F that is just not realistic with the type of conditions we ride, as well as the type of rider that is on the machine. I am sure if you're weekend warrior type of rider going 100 hours on your 2023 KX250 will be achievable and that to me is a HUGE improvement over last year's KX250. If you're thinking about a 2022 or 2023 KX250, I would point you in the direction of the new KX250 for the simple fact that I have been a lot happier since the new girl has entered our shop.
If you have any other questions about the green machine, please email me at kris@keeferinctesting.com. We are here to help as much as we can.