I can guarantee you that there is NO ONE out there that wants the Honda to have comfort as much as I do! I have spent many years purchasing Hondas (2005, 2006, 2008, 2012, 2017). I have spent A LOT of my own money on Hondas only to be let down by the chassis comfort and finicky set up when going from track to track. Although I have had luck with some suspension valving, engine mounts and ECUs, only changing the linkage has really helped me with track toughness.
If you're looking for a more technical answer on what this linkage does here you go:
REP's main goal in developing this linkage was to increase predictability and provide a more consistent handling motorcycle. Although the system utilizes a pull rod that is not much different than standard and is based around the standard shock length, the resultant ratio is very different than stock, the change is mainly due to the vast changes in knuckle, or cam, geometry. What we found with the final product was a more stable bike, calmer rear and an increase in comfort. The rear was more compliant and tracked better in rough conditions. In addition to this there was increase in square edge absorption. Now what made this possible from a technical standpoint is that this REP linkage system in the big picture is much "stiffer", or lower leverage ratio at the wheel, but this was not done to see the results REP did. The reason it is stiffer is to allow REP, or the tuner, to be capable of running a spring four rates lighter from what would normally be used to lower the overall bike weight. What gave the new character and feel was the style of progression through the stroke. The first 70% of stroke has a flatter ratio to give a more consistent platform and a more progressive ratio the last 30%. Overall, the progression percentage as a whole is higher than standard to increase in bottoming resistance and keep the rear from riding too deep in the stroke. Data acquisition with this shows this added progression will have the rear spending less time deep in the stroke for a more balanced bike and better feel from the average ride height being in the softer part of the travel. The progression compared to standard is very similar up to 150mm of wheel travel, but ramps after this point until end stroke.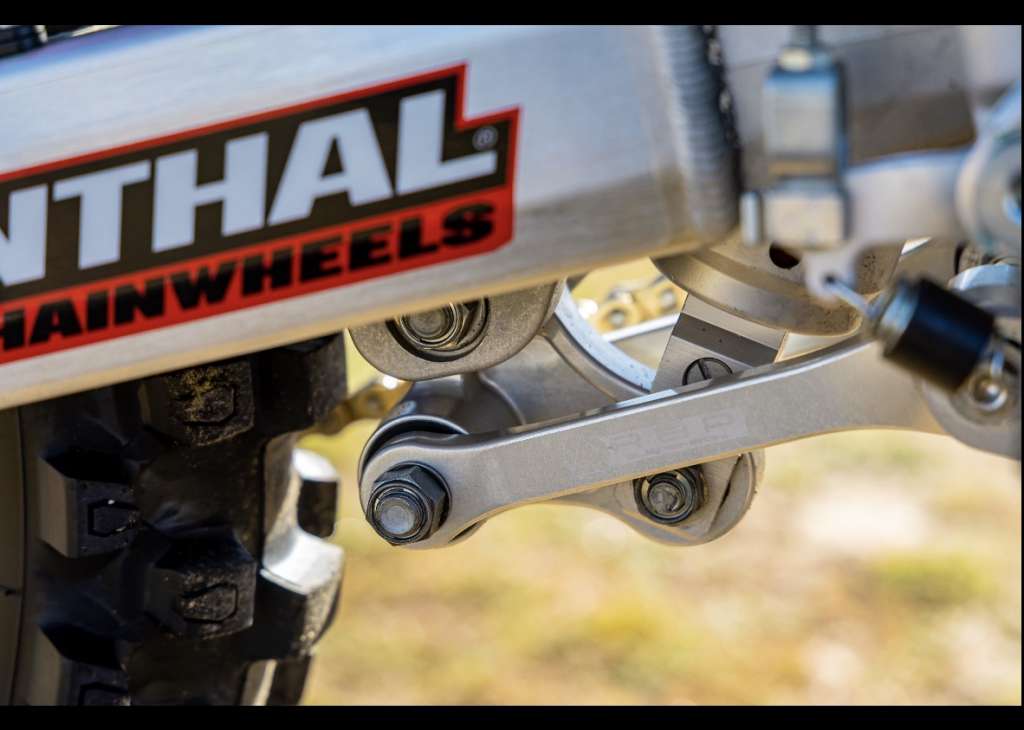 Q: So in Layman's Terms, What Does It Help?
A: Helps with acceleration comfort from rear end, overall bump absorption and rear wheel connectivity. The most important piece to the CRF450R puzzle is the suspension right? All of us Honda lovers understand that the Showa suspension needs some help especially when the track gets baked or square edged. Mark over at REP has designed his own linkage system with a curve that is more linear initially yet is more progressive at the end of the stroke like we mentioned above. This along with his valving allowed for more plushness on the small/square edge bumps we get out west along with a rear end that has more traction at the rear wheel. With the stock Honda CRF450RWE, the shock can get harsh when accelerating out of corners but with the REP linkage that harshness has been cut in half which is a welcome feeling to my back after a long moto. I am not going to say all of the harshness from the Honda is gone, but at least now it is manageable and I don't always have to look for the smooth line around the track with this red machine. What is special about this suspension is that this linkage and valving gives me more track toughness with the Honda CRF450R than the stock linkage/valving. This suspension spec provided felt good enough for me to race on and actually want to ride this machine on a rough track. Go to repsuspension.com to order or check out their services. You can also use the code KKREP if you want a discount on your re-valve.