Some muffler questions that get sent to my email inbox usually look like, "which muffler is best for my bike? Is a full system worth the money or can I just get away with purchasing a slip on"? "Is my stock muffler the best muffler option for me"? Instead of trying to keep answering some of these emails, I thought I would write an article on a FMF 4.1 slip on I recently tested on the 2023 Husqvarna FC350. Which style (slip on or full system) does what to the engine character of the FC350. I also will talk about the stock system and what its power character is like compared to the FMF slip on 4.1 version as well as full version. 
Stock Muffler Character: Exciting low end RPM response with a zippy low end torque feel. The 2023 engine character has more low end/mid range than a 2022 FC350 but could use more mid to top end pulling power in 2nd-3rd gear. Exhaust note sounds raspy/loud after around 10 hours or so as well.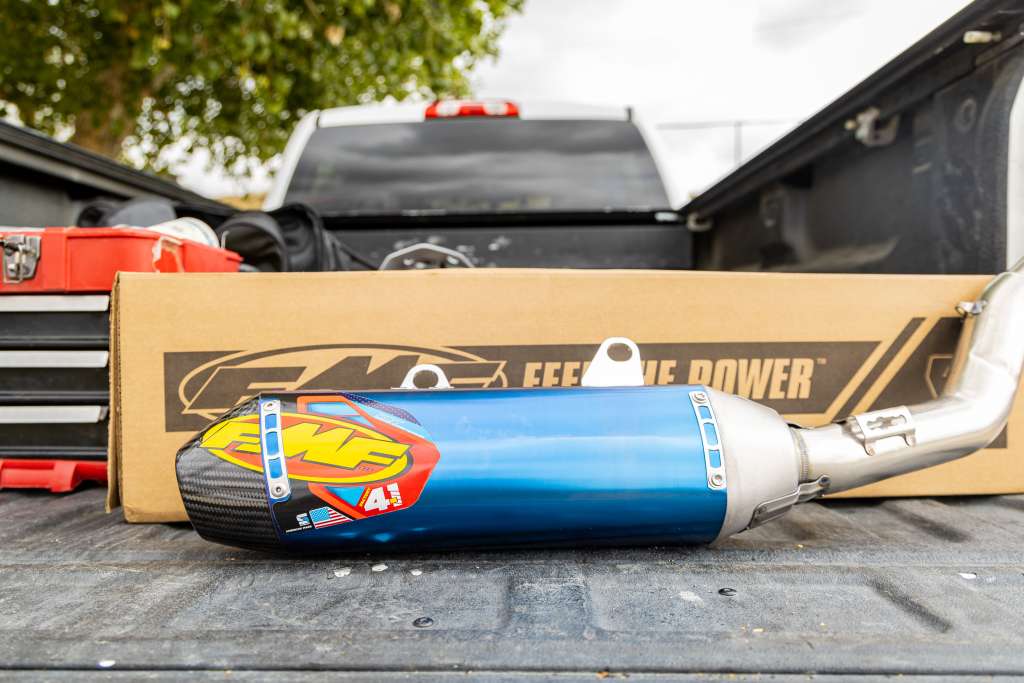 FMF 4.1 Slip On: To me, FMF makes the best muffler system for the KTM 250/350/450 SX-F. There are some other companies that have other bikes dialed in more, but on the KTM, FMF has got it down. You will get more low to mid RPM response as well as more mid range pulling power. Bottom end pulling power is not as good as the stock muffler character as it doesn't pull quite as hard. It is slightly more smooth going out of the corner but transitions to a harder mid range pull. Top end is increased plus the over-rev is as good as stock. It is one of the few times that I was impressed because it was actually better than stock in almost all areas. The downside is that you must keep up on muffler packing (every 10-12 engine hours) because the FMF will blow out and that could damage your expensive titanium can. Did I mention that you will lose almost two pounds with the titanium 4.1 system? If you slap on spring forks on your FC350, you will be gaining two or more pounds. You can get most of that weight gain back down with a 4.1 Titanium FMF Muffler system. The pitch of the muffler note is also more of a deeper tone than the raspier note of the stock system. I prefer the insert in as the FC350 gets more rear wheel connection but if you want more response, you can leave the insert out for more RPM feel.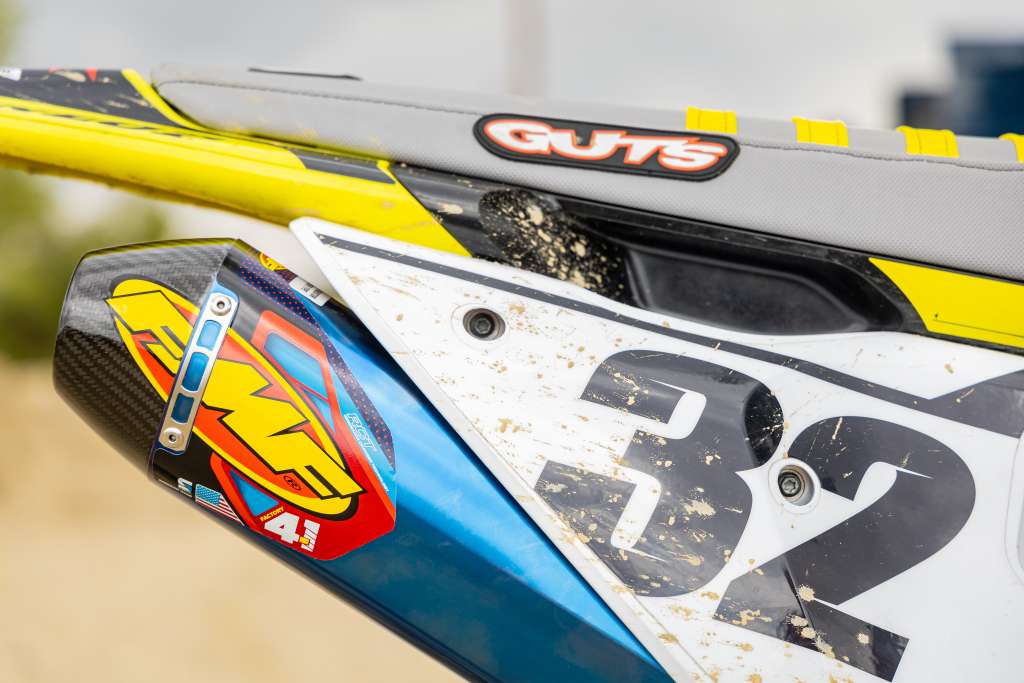 FMF 4.1 Full Muffler System: With the full FMF 4.1 muffler system you will lose some of that low RPM response but will increase mid range pulling power once out of the corner. Top end/over-rev is also increased as each gear can be stretched out even more. If you're wanting to shift more of the power curve towards the mid range and top end/over-rev, getting a headpipe with your muffler system is the way to go. You will also lose around one pound from the stock exhaust.
If you have any questions about slip ons or full systems please email me at kris@keeferinctesting.com.